Posted by
lethalweapon3
in
lethalweapon3's Pre-Game Preview Blog
, 15 December 2014 -
· 27 views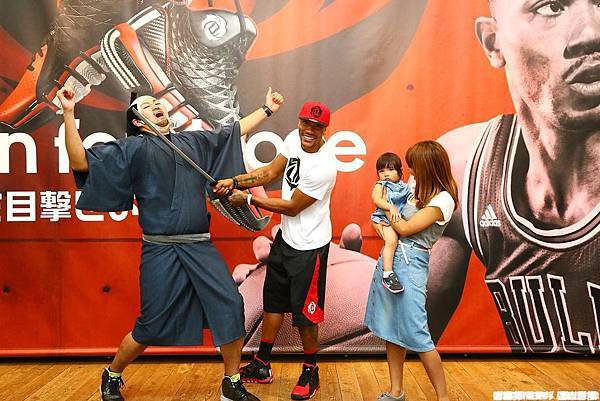 "Sorry, Benihana. My hibachi steak wasn't grilled to perfection, so…"
Despite the coming uptick in the competitive quality of the NBA schedule, the Atlanta Hawks may catch a break once again when the Chicago Bulls (7:30 PM Eastern, SportSouth, CSN Chicago) charge into Philips Arena seeking to match their season-high four-game winning streak. That's not just because do-it-all center Joakim Noah is doubtful to play as he continues to fight a pesky ankle sprain.
Accompanying the Central Division-leading Bulls (15-8) today will be the usual menagerie of Second City carpetbaggers and NBA jersey-chasers filling the arena seats. The red-clad roadies have been quite satisfied with their team, as Chicago boasts the most road wins (11-3) in the league, save for Golden State.
Yet many coming to the Highlight Factory primarily to cheer on The Youngest MVP in NBA History may come away moderately disappointed this evening. Thus far, these are the contributions of Derrick Rose (17.0 PPG, 4.9 APG) on the second night of back-to-back games for the Bulls: DNP-ankle sprain; 4-for-10 FGs, 13 points and seven assists in 31 minutes, DNP prior game; DNP- two ankle sprains; DNP-hamstring strain; two points in 10 minutes before leaving game with hamstring strain; 5-for-12 FGs, 15 points and five assists in 28 minutes.
Rose wasn't exactly balling out of control last night (14 points, 6-for-14 FGs in 27 minutes) as the Bulls turned to an
en-fuego
Mike Dunleavy (19 third-quarter points) and its airtight defense (35.0 opponent FG% on Sunday) to stymie Luol Deng and the heat in Miami. Maybe he was just saving himself up a little. But it's certainly within the realm of possibility that Chicago's most impactful player won't be on the floor much tonight.
Wait, check that. Jimmy Butler IS playing tonight. Jimmy Buckets played his tail off in the preseason, including one 20-point fourth-quarter bonanza (where have you gone, Jarell Eddie?) topped by (stop me if you've heard this one before) a buzzer-beater to topple the Hawks. Then, while Rose nursed his injuries, Butler went on to earn Eastern Conference Player of the Month for November, serving up 21.9 PPG (49.8 FG%) in a Thibodeauian 39.3 minutes per contest. The fourth-year swingman passed up a four-year, $40 million contract extension offer at the outset of the season and now is playing the way a prime 2015 free agent target should.
Jimmy's October Surprise notwithstanding, Butler (29.1 3FG%) and Rose (30.5 3FG%) are just occasional threats outside the perimeter. But their abilities to draw contact and pile up points at the free throw line, when Rose is healthy, pushes them up toward the top of the ever-popular Best Backcourts in the League discussions. Butler has taken more free throws (30) in just the past four games than a certain NBA center (
) has taken all season (26). In the three-game stretch to conclude his award-winning November run, Butler drew 45 trips to the free throw line.
While
has ill visions of Tobias Harris' buzzer-beater dancing in his head, among an array of strategic errors during Saturday's loss in Orlando, he has no time to dwell upon them. JYD and Thabo Sefolosha have to show sound defensive posture and spacing to minimize Butler's forays inside and draw offensive, not defensive, foul calls. Same deal with the Hawk guards defending Rose for however long he appears tonight. Rose has had a propensity to settle for jumpshots (career-high 5.5 3FGAs per game) rather than drive to force the action (career-high 52.0 2FG%; 59.8 FG% within 10 feet), particularly when no one appears to be open. The Bulls' 6.9 team PPG produced from Rose drives are lower than those of
(11.4 Hawks PPG) and
(7.4 Hawks PPG).
Whether Butler is, indeed, the most impactful Bull this season is debatable, and that's not even including Rose or Noah in the mix. Veteran free agent newcomer Pau Gasol is pulling off that most-difficult phenomena of being obscured by one's little brother, despite an otherwise MVP-candidate-caliber stat line of 19.0 PPG, 11.9 RPG (2
nd
in NBA), and 1.9 BPG (7
th
in NBA). He's getting it done on the interior as Taj Gibson and Noah have taken turns sitting with injuries.
NBA opponents take the most shots at the rim against Gasol (11.0 at-rim FGA per game), but shoot just 45.2 FG%, a percentage bested only by usual-suspects named Howard, Ibaka, Cousins, Hibbert, Bogut, Dalembert, and Duncan. It remains to be seen if 34-year-old Gasol is going to hold up all season long, particularly if Noah continues to miss time. But for now, Pau seems pleased-as-punch to be far away from the morass in Kobetown. On offense, Gasol will want to draw Al Horford on post-ups, perhaps forcing Mike Budenholzer's hand to turn toward ex-Bull
early in the contest, especially with
(flu) questionable for tonight.
Under Tom Thibodeau, the Bulls' defensive M.O. is to chase opponents off the three-point line and hound them into settling for mid-range shots. Butler and Gasol are on the floor when opponents shoot mid-range shots (around 21 FGAs per game) more often than anyone else in the league; largely by consequence, Noah and Dunleavy are in the Top-15 for that category. While the Bulls allow the 3
rd
-most shots in the league, opponents are shooting just 43.3 FG% (6
th
lowest in NBA) as they shoot a league-high 27.4 mid-range FGAs at just 39.0 FG%.
Conversely, only 18.3 opponent shots per game (2
nd
fewest in the league) come from three-point territory. The Bulls all but cut out the corner shots (NBA-low 3.3 opponent 3FGAs per game) and allow just 35.2 3FG% above-the-break. They also don't risk defensive breakdowns by gambling for steals (6.2 steals per-100 possesions, 4
th
fewest in NBA).
Any success for the Hawks (16-7) tonight will come as a direct result of discipline and patience, directed by Atlanta's point guards in setting up the plays they want, not the ones the Bulls want them to settle for. Executing fewer plays near the end of the shot clock will help keep Chicago's defenders guessing and not just digging their hooves in.
Defensive anchor Gibson will be all over
(3-for-12 FGs and 9 points but 4 offensive rebounds on Saturday; 23 points on 7-for-15 shooting on Friday), but he and Horford can rack up assists getting the ball back to their guards and wing players; Sap by backing in and kicking the ball outside, Horford by dishing the ball to cutters from the high post. Some deft passing back to Millsap in the paint could keep Gasol and Gibson's heads on a swivel. Horford of course must play stronger around the rim (6.5 PPG in-the-paint), but he must also force Gasol into playing a fullcourt game by beating him down the floor on the break.
Another poor shooting night from long-range is to be expected, especially after the Hawks shot just 33.3%, 31.0% and 29.6% in their past three games against the Sixers and Magic. Still, being persistent with drives and cuts in the paint early can soften up the Bulls for the knockout kickouts later in the game.
Hawk shooters have been succumbing to pressure to seal the deal with well-contested long-range jumpers late in the game; Atlanta shoots a tepid 33.8 3FG% in fourth-quarters (13
th
in NBA), compared to 38.0 3FG% (5
th
in NBA) in the earlier segments in the game. Take out former Bull and would-be-Magic-game-savior
's downright insane numbers (73.1 fourth-quarter 3FG%!), and it's been an even bleaker picture for the Hawks. Butler will do his best to try and blanket Korver, but whichever Hawk draws Dunleavy and/or Tony Snell should be able to get around them and get open – just keep driving and avoid settling for Chicago's desired mid-range jumpers.
When the Hawks tend to freeze up is generally when the Bulls like to sharpen their horns. By inserting reserves Aaron Brooks (44.8 3FG%, 12
th
in NBA) or Kirk Hinrich for hot-handed firepower along with Dunleavy, Chicago shoots 39.5 3FG% (3
rd
in NBA) in the final quarters of games.
(season-high 10 points on 4-for-5 FGs at Orlando) has been gaining the trust of Hawks' staff to play longer stints and later in games, and he'll be needed to help Teague patrol the perimeter. Stretch-four rookie Nikola Mirotic (35.7 3FG%) will also mimic Atlanta's
on offense to the best of his ability. Thibodeau's ability to stretch the floor will be further enhanced once his fellow rookie Doug McDermott returns in a month or so after arthroscopic knee surgery.
Questionable A$G surveys aside, Hawks CEO Steve Koonin could not care less why anyone comes to Philips Arena for an NBA game. With the Bulls, Clippers, and Cavaliers in town before the end of the calendar year, what Koonin does hope is that the in-arena atmosphere coupled with quality competitive play on the floor will eventually be enough to flip some on-the-fence attendees, along with a few watching from home. Armed with lessons-learned from what felt like an extended preseason for Atlanta (15-4 since November 8, but just one win vs. an above-.500 team), impressive play against the NBA's marquee teams, like the Bulls, could have some non-Hawk fans returning again soon, wearing red for a whole different reason.
Let's Go Hawks!
~lw3