Posted by
lethalweapon3
in
lethalweapon3's Pre-Game Preview Blog
, 21 November 2014 -
· 24 views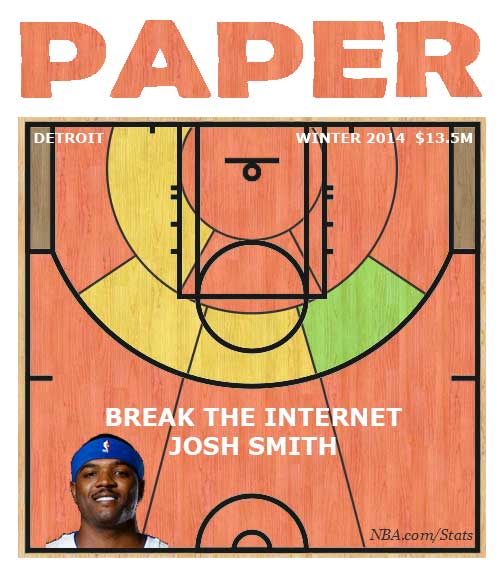 WARNING: This shot chart might leave your eyes glazed over. Kinda like Kim, actually.
Are the Atlanta Hawks the "fixers" of the NBA?
Despite a three-game winning streak, the high-hoped Cleveland Cavaliers had a disappointing 4-3 record and were coming off a seat-of-their-pants victory in Boston the night before. Their championship aspirations were, and are, decidedly in question. How nice of the Hawks to serve as the backdrop for Cleveland's franchise-record 19 three-pointers on Saturday? The Cavs went on to lose the next two games on their home floor this week, including one to the squabbling Nuggets. Thank goodness for that Atlanta game, eh, Cleveland?
It takes a lot to get Charles Barkley to consider skipping dessert, much less fasting. Yet the L.A. Lakers were just 1-9 and starving for another victory (their first on the road) after dropping four straight. Well, welcome to Philips Arena, Kobe! Home of the Bailout Factory! Kobe gets his obligatory 28 while three other Lakers get double-doubles. The victory propelled L.A. to get up off the mat, winning their next road game in Dwight-less Houston. Thanks a bunch, Atlanta!
Now here comes Josh Smith and the Detroit Pistons (7:30 PM Eastern, SportSouth, FoxSports Detroit), in the ATL and hoping to grab that life raft. They're mired in last place in the Central Division (3-9), two full games behind whatever's left of the Indiana Pacers, losers of three straight and six of their last seven, shooting a league-low 43.6 2FG% despite the presence of three frontcourt talents.
Atlanta's Own (12.5 PPG, career-lows 36.9 FG% and 45.8 FT%) and his new coach/GM, Stan Van Gundy, are already squabbling on the sidelines, Smith getting benched midway through the third quarter of a two-point home loss to Phoenix. And all signs indicate they're stuck with each other for the foreseeable future. Will the Hawks be there to once again to step in and lift another team's spirits?
Andre Drummond has been rebounding, blocking shots… and that's pretty much it. The youthful behemoth that's been heralded as the face of the franchise is being forced by Van Gundy to do more than play help defense and cherry pick. As a result, That Other AD is struggling at a scale on par with Detroit's economy. Having shot 61.8% in the first two years of his career coming into this season, the Big Penguin is shooting an ice-cold 39.4 FG%, a 13.5 PPG scorer last season who has scored no more than 12 points in his last nine games, in double figures just once in his last six. Early foul trouble (4.2 PF/game, 2
nd
-most in NBA) takes him out of the already-torturous flow of the Pistons offense.
With Al Horford (75.0 FG% last three games; 64.5 FG% and 13.2 RPG in last three seasons vs. Detroit) beginning to find his comfort level on the offensive end, will he and the Hawks keep Drummond playing off-balance? Or will they be the ones awakening the beast?
Despite the losing, Greg Monroe (15.8 PPG, 10.5 RPG, 18-and-12 versus Phoenix) hasn't whizzed away his chances for a big free agent payday this summer, in a similar situation as his counterpart for much of this evening, Paul Millsap (career-high 18.0 PPG and 2.1 SPG). But the early exits by Drummond tend to stretch his team's frontcourt depth and, by moving Monroe into the 5-spot, diminish their defensive capabilities. Joel Anthony has not done much to fill the gap so far once Drummond sits. Never a strong defensive presence himself, Monroe has amassed a total of two blocked shots in his 10 games this season.
Despite an early-season benching in favor of D.J. Augustin in the clutch, the Pistons' leading scorer Brandon Jennings ( 16.6 PPG; career-highs 44.2 FG%, 41.7 3FG%, 39.5 assist%) seems to have embraced Van Gundy's directives as well as any of the Pistons' starters. He struggled mightily in four games against the Hawks last season (32.2 FG%, 12.8 PPG) but was bailed out repeatedly (40 assists, 2
nd
-most vs. any NBA team) whenever he could find an open shooter.
While still hot-and-cold as a volume shooter (1-for-9 on threes vs. Phoenix, 5-for-7 vs. Orlando, 1-for-6 at Memphis, 5-for-8 during their last win at OKC), Jennings has been as efficient as ever before as a passer, having turned the ball over no more than three times in 11 of his 12 games. Jennings, Smith, and Monroe have to help one another boost the Pistons' passing game (14.6 assist%, 2
nd
-lowest in NBA) against a Hawks team that ranks second in that category (18.9 assist%).
Detroit's competitiveness from night-to-night will improve as they get their full array of shooters with Georgia back to complement Jennings and their marquee bigs. Greenville's Kentavious Caldwell-Pope (5-for-11 3FGs last two games) is understandably peeved at Phoenix's self-professed cardiologist Markieff Morris questioning his heart in postgame commentary. No one needs an ego-bruised KCP to transform into Papa Pope tonight. The Pistons' top free agent prize, Norcross' Jodie Meeks, remains out for another month with a back injury, but they do have ex-Hawk Cartier Martin, who celebrated his 30
th
birthday yesterday, back from injury to help stretch the floor along with Caron Butler and Kyle Singler.
Smoove may get another chance to go up against the guy who took possession of his ATL #5 jersey. Atlanta's NBA rank for defensive rating (points per possession) fell from 11
th
to 23
rd
in the span of games DeMarre Carroll missed to heal a groin strain, although Thabo Sefolosha did the best he could to contain Kobe, LeBron, Deng, and Hayward in the interim. While Sefolosha (11.8 3FG%) could not replicate Carrroll's (45.8 3FG%) long-range shooting, he did keep the Hawks in the mix against the Lakers with 6 offensive rebounds. DMC plans to play but will be a gametime decision.
Detroit puts very little pressure on the ball (11.8 opponent TOs/game and 12.4 PPG off TOs, 2
nd
-fewest in NBA), so execution of the Hawks offense should be little problem tonight. That's good news for Kyle Korver, who's now down to "just" 56.1 3FG% after going 2-for-5 on threes against the Lakers, just 2-for-7 FGs in his past two appearances. It might be too much to ask for Korver to get his interior shots up, too (31.0 2FG%). Broken record, but with the bricklaying likely to come from Motown shooters, all hands should be on deck to seal Monroe and Drummond out of the restricted area for putbacks. The Hawks' 16.1 second-chance points given up per game to opponents remains the league's worst.
Especially against fellow teams in the East still trying to get their bearings, the Hawks (5-5) have to stop working against their own interests and righting others' ships. When another team's vessel is listing, as the Pistons' has been, hand them buckets full of seawater, sand, and basketballs.
Let's Go Hawks!
~lw3