Posted by
lethalweapon3
in
lethalweapon3's Pre-Game Preview Blog
, 22 April 2014 -
· 13 views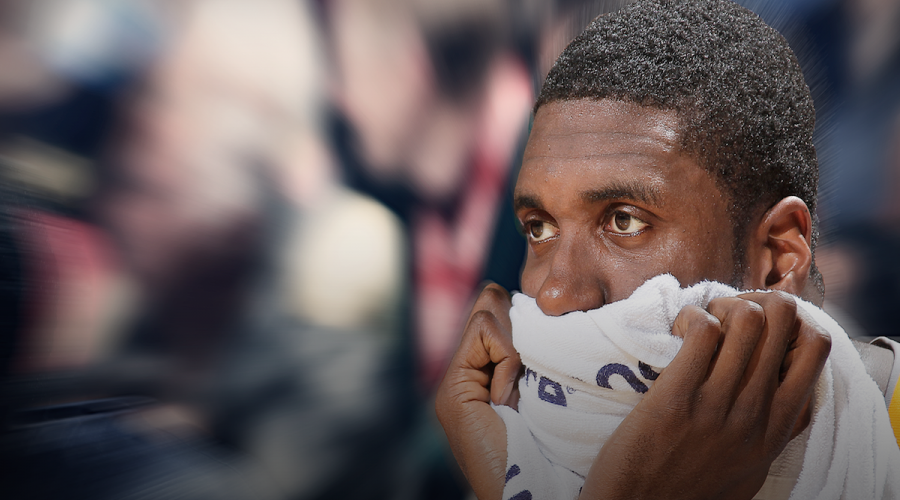 You could always just throw it in, Roy!
Blue Collar.
Red Dagger? 
Five higher-seeded teams lost Game 1 of their opening-round playoff series at home over the weekend. But from the looks of it, after a thorough thrashing at the talons of the Atlanta Hawks, one would think the Indiana Pacers went down three games to zero in their best-of-seven series. 
They'll get a chance to even the series with the Hawks in Game 2 (7:00 PM Eastern, SportSouth, TNT). It's probably a must-win if the #1-seed Pacers' intend to win the series, but it's definitely a must-win for their increasingly fragile psyches. 
Last season, Denver boasted the league's top record (38-3) at home. But they dropped Game 2 of their first-rounder against #6-seeded Golden State, and Nuggets fans never got to see a Game 7 materialize. This season, the team with the NBA's best home record (35-6) will likely have to get it done tonight in front of their shell-shocked fanbase at the Bankers Life Fieldhouse, or their chances at NBA title contention will fade from bleak to pitch-black. 
The home-court-advantage they've toiled so hard to obtain this season could become as useless as David West's black belt in whatever. Since the All-Star-Break, the Pacers have been particularly less-than-stellar outside of the Hoosier State. On just five occasions has Indiana come away victorious in their last 17 away games, and all of those wins were against tankerrific teams (Bucks twice, Celtics, Sixers, Pistons in OT). 
Their last road win against a playoff team was in Atlanta on February 4, right as the Hawks were missing Pero Antić and just initiating their deferred slide out of the top half of the conference. With a second disappointing loss tonight, just to have a chance in this series, Indy would have to nail down two victories at a Philips Arena that, with or without raucous Hawks fans, has been a house of horrors for their franchise over the past eight years. 
At least momentarily, the #8-seed Hawks seized the dominant position in the series without really even playing Hawks Basketball. Up against one of the top perimeter defenses in the league (Indiana's 34.6 opponent 3FG%, 4
th
best in NBA), Atlanta lofted up 30 three-point attempts and only sunk eleven of them, including Kyle Korver going just 2-for-7 from downtown. The team topping the Eastern Conference in assists per game, Atlanta dropped just 13 dimes, the fewest by any Hawks team in over three years. There was scant offensive contribution from (16 cumulative points, 5-for-14 FGs) from Atlanta's reserves, most notably Lou Williams and Mike Scott (combined 2-for-5 over 29 minutes of action). 
And despite all of that, it was the Pacers, and not the Hawks, who came away flustered beyond all recognition. Teams like Indiana that worry about Atlanta's three-point bombardment often neglect that it's inside the perimeter, not outside (36.3 3FG%, 13
th
in NBA), where their top-ten accuracy makes their offense dangerous (50.2 2FG%, 8
th
 in NBA… that's even with Jeff Teague's occasional blown layups included). 
Teague's ability to shed one defender after another and get inside, with Pacers spread across the floor, snubbed any momentum the Pacers tried to build in Game 1. The Hawks could use more effective offense tonight from their backcourt bench mob (Williams and birthday boy Mack, in particular) to keep the Pacers scratching their heads. 
Also, the media punditry has placed so much focus on how Indiana's vaunted defense was rendered futile by Atlanta's attack that nary a paragraph of attention has been placed on what has been happening on the other end of the floor, aside from Kyle Korver getting his Tree Rollins on against Roy Hibbert at the rim. 
While we've been left to believe Indiana's offensive power outage was entirely self-inflicted (41.7 2FG% in Game 1), the Hawks did a solid job keeping Indiana's forwards clear of the rim, forcing their top offensive threats into uncomfortable, out-of-rhythm "Plan B" shots (Paul George 6-for-18 FGs, West 4-for-10, Hibbert 4-for-9, Luis Scola 0-for-6; Lance Stephenson 5-for-12 2FGs), and helping one another secure rebounds. Paul Millsap, Elton Brand, and Antić got help from DeMarre Carroll and Korver and kept Indiana off the glass until desperation-time finally kicked in for the Pacers, largely avoiding foul trouble. 
Head Coach Frank Vogel has left the impression his Pacers have gone back to the drawing board to figure out how to handle Teague (9-for-19 FGs, 9-for-10 FTs). They can help their own cause by avoiding cheap fouls and disrupting passes from Hawk teammates to him, including inbounds and bringing the ball up the floor. George and Lance Stephenson will work to be more aggressive with Teague before he can get a chance to read Indy's defense and set up a play. 
On the offensive end, the Pacers (George Hill, in particular) have to get Roy Hibbert actively involved in the offense in spots where he's most effective -- the corner is not the place to get him the ball. He and West have to do a better job going right up with shots (Hill might want to try some lobs for Hibbert to get him going). If defensive help comes, they must pass to their cutting teammates like Hill (5-for-6 on 2FGs in Game 1) and George, rather than waste valuable time exposing the ball by over-dribbling in the post. 
Pacer preoccupation with "stopping" individual Hawks (Teague, Korver, and Millsap in particular) obscures Indiana's real challenge: to counter Head Coach Mike Budenholzer's team-oriented approaches to scoring and defensive rebounding. Indiana will get at least another 48 minutes tonight to figure out how to do it. 
 Go Hawks! 
~lw3