Posted by
lethalweapon3
in
lethalweapon3's Pre-Game Preview Blog
, 24 April 2014 -
· 11 views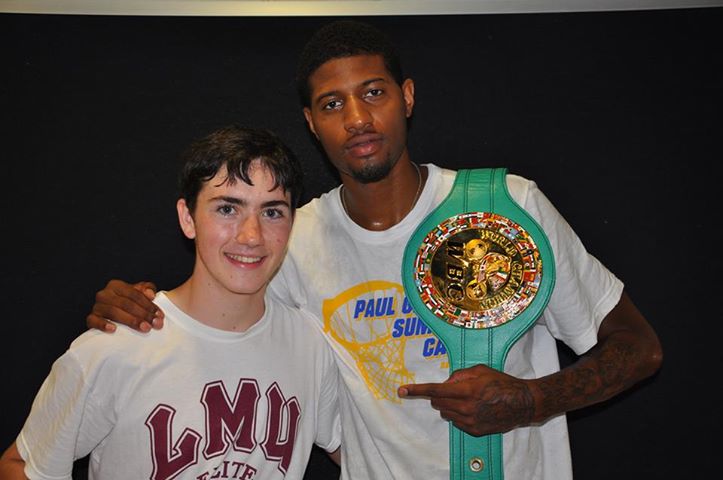 "This kid helped me beat Lance Stephenson for the Locker Room title belt. Thanks for that steel chair!"
WE… BELIEVE? Don't be surprised to see fan rally towels declaring "WE'RE NOT SO SURE!" when the Atlanta Hawks return to the Highlight Factory for Game 3 of their series with those Fightin' Pacers (7:00 PM Eastern, SportSouth, NBATV). 
While guarded optimism reigns supreme in the stands, on the floor, the #8-seed Hawks arrive clutching home-court advantage, and knowing they were just 24 basketball minutes away on Tuesday from engendering a complete Indiana Implosion. 
A 2-0 deficit would have been an eight-count for the Pacers, just days after Lance Stephenson and Evan Turner were caught dropping knobs on the eve of the playoffs, their teammates not completely certain that it would help their own cause to intervene. No big deal, they insist now. Of course, they're right, now that they actually pulled together to win a game. But if they don't come away with at least one road win in the next two games, Michael Buffer may be joining them on the flight home. 
Paul Millsap and DeMarre Carroll have each uttered the phrase "Humble and Hungry" ("Hongry," if we're being phonetically consistent) to describe the contrasted attitude of their team in this series. After one half of hoops in Game 2, our Humble 'n Hongry Hawks came out with a lead and looking quite satiated, while the top-seeded Pacers were more than happy to be the ones doing some humbling, finally turning the blows they reserved for each other onto their playoff opponents. 
Head Coach Mike Budenholzer's approach to this series is yet another contrast to his counterpart Frank Vogel, who's pulling strings behind the curtain. While Vogel's making adjustments all over the place, Coach Bud is steady-as-she-goes, insisting the postseason is all about his players "improving" and "getting better" at executing his system as they go along. 
The Hawks' starters coughed up the lead early in the second half of Game 2, but rather than seeing birthday boy Shelvin Mack's misguided and overwhelmed play as a cause for substitution, Budenholzer chalked up the reserve guard's extended stay to a necessary and valuable learning opportunity.  By the time Mack and Lou Williams returned to the bench in the final quarter (for Jeff Teague and Carroll, respectively), a three-point deficit ballooned to 22, while Paul George (27 points, including the routine quarter-ending dagger, 10 rebounds) and his fellow Pacer starters rejoined Luis Scola (13 first-half points off the bench) in experiencing regained confidence. 
The Pacers learned to stop worrying and love Atlanta's three-point bombs. Atlanta followed-up a mediocre performance from the perimeter in Game 1 (11-for-30) with a similar effort in Game 2 (10-for-29, including 11 consecutive missed threes). Blanketed at turns by George and Stephenson, Kyle Korver has yet to go off in this series (3-for-11 on 3FGs), while Pero Antić (1-for-5 on 3FGs; 3 rebounds in 25 minutes of Game 2) is looking more like an empty threat. Until Atlanta heats up from outside, Indy can converge on anyone driving into the paint, including Teague (14 points, 5-for-11 on 2FGs, just 2 FT attempts after 10 in Game 1). 
With Atlanta insistent on remaining spread out across the offensive floor, but not hitting shots, Indiana knows they can force tougher shots from Millsap and driving guards with defensive help in the paint, cut down on the hacking (18 personal fouls in Game 2, 11 fewer than Game 1), and reassert themselves on the glass (30-21 defensive rebounding advantage; 32-33 in Game 1). The Pacers pulled away 101-85 in Game 2 despite taking 11 fewer shots from the field. 
In Game 3, we'll get to see whether the Hawks have "improved" with ball movement against the Pacer defense, as Atlanta's season-low 13 assists in Game 1 was matched in Game 2. Dennis Schröder showed enough confidence with his shot in garbage-time of Game 2 that he may get more of the tutelage time previously set aside for Mack. 
Antić, the starting center with zero defensive boards in Game 2, has to "get better" at mixing it up on the interior and flustering David West and Roy Hibbert. If he doesn't, expect more of Elton Brand showing Antić how it's done (team-leading 7 rebounds in 18 minutes, 3 offensive boards). Korver and Carroll can do a better job in navigating across the paint to get better looks at the rim, while Teague (4 assists, 3 turnovers in Game 2) can make better use of the pick-and-pop game when he's driving into the teeth of the Pacer defense. 
If they do most of those things, and do a better job closing out on shooters defensively, the Hawks can return all of the pressure onto Indiana, ramping up the likelihood they'll resort once again to internal pugilism before the series ends. 
Go Hawks! 
~lw3