Posted by
lethalweapon3
in
lethalweapon3's Pre-Game Preview Blog
, 25 January 2015 -
· 25 views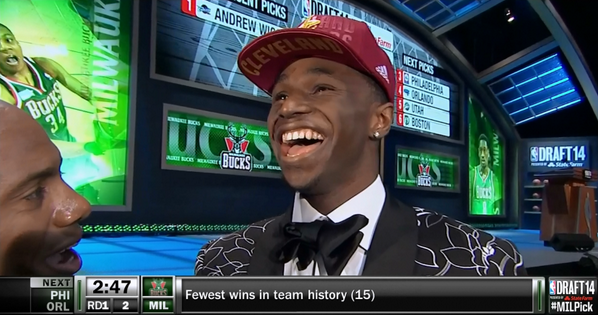 "Zach's going to Minnesota? HA! Sucks for you!"
Harlan. Garnett. McHale. Ollie. Love. Is there ever a Kevin that sticks around up there?
The Winter of Our Discontent is well into its 11
th
year up in The North Star State. The silver lining for the long-suffering fans of today's guests at the Highlight Factory, the Minnesota Timberwolves (6:00 PM Eastern, SportSouth, Fox Sports North, 92.9-FM "The Game"), is one Kevin, Kevin Martin, is still there! For the moment, anyway, as the trade deadline is less than a month away. The sharpshooter might even play today after having missed most of this season with a wrist injury.
Despite enduring so many losing seasons without a playoff payoff, there remains something called "Minnesota Nice." Minnesotans are a pragmatic bunch by nature, so there's no better NBA market for teams that need fans willing to wait, even if it's longer than anyone rationally planned. You need more time for your ankle to heal, Ricky Rubio? Go right ahead, there's four more seasons left on your new $56 million contract extension. What's the hurry, Kevin Martin? Bah, an extra month of downtime to heal that wrist is nothing. It's not as if it's going to take, like, 11 years or anything!
The T'wolves reached the Western Conference Finals in 2004, and Kevin Garnett and coach Flip Saunders led the way. It was a long time coming after GM Kevin McHale's Joe Smith debacle hackjobbed the team's ability to grow. But Coach Saunders struggled the next season, and by midseason he was replaced by McHale himself. While Saunders found his way to conference-finalist Detroit, GM McHale went back upstairs and finagled his way through coaching stints with Dwane Casey and Randy Wittman, along the way giving his Celtics buddy Danny Ainge a sweet deal to free up Garnett.
Wittman gets canned early in 2008-09, and at owner Glen Taylor's behest, downstairs comes McHale again. By the end of that season, GM-Coach McHale is gone for good (we think) and Wittman shows up in D.C. to replace… Coach Flip Saunders. Rubio and a murder of point guards get drafted by new GM David Kahn, but the teenage star would have to wait two seasons for a Euro-buyout. A few Kahn-niving maneuvers here by the new GM, a cold-shoulder contract there by owner Glen Taylor, and within a couple years' time there's another Kevin (Love) looking for a way out. Kahn's gone by 2013, and he's replaced by… GM Flip Saunders!
Rick Adelman arrived in 2011 from Houston (Who else? He was replaced by McHale) to replace Kurt Rambis, who replaced McHale in 2009. But Adelman decides he's getting too old for this gerbil wheel and retires in 2014. GM Saunders conducts an exhaustive search for a replacement and announces it's… Coach Flip Saunders! Saunders flips Love out of Minnesota for two of Cleveland's number-one-overall picks. But Coach Saunders struggled the next season, and by midseason… hold up, what year is this, again?
Perhaps the most comforting news for Wolves fans is that Andrew Wiggins' first name isn't Kevin (admit it, though: "Flip Wiggins" would be pretty cool). The struggle was real for the soon-to-be-20-year-old rookie in the first month of the season (11.6 PPG, 40.1 FG%, 67.5 FT%, 1.0 APG, 2.3 TO/game). But now the top-overall draft pick has taken charge of the Minnesota offense and the Rookie of the Year race, averaging 20.1 PPG on 46.4 FG% and 81.4 FT% in January. He's also becoming more adroit as a ballhandler, averaging 2.7 APG and just 1.9 TO/game this month.
He struggled on Friday night in a 92-84 home loss to the Pelicans, and hasn't broken 20 points in his past three games. But Wiggins' career-highs of 31 points, eight defensive rebounds, four three-pointers and three blocks on January 17 in Denver helped thwart another losing skid for Minnesota, who had dropped 15 straight before topping the Pacers earlier that week. Fans of the Wolves (7-35) have not been treated to a home W since December 10. They're fine waiting, though.
Wiggins' in-season development was impeded largely because he has yet to have a stable core of veterans surrounding him. Besides Rubio and Martin, center Nikola Pekovic has been spending more time at the Mayo Clinic trying to get treatments for his bothersome ankle. He's back, but it will take time for him to get up to, um, speed. Forward Thaddeus Young was granted bereavement time off after the passing of his mother, while swingman Corey Brewer was traded in December for second-year guard Troy Daniels. Rubio, Brewer, Young and Pek were the opening-day starters. Chase Budinger's return after missing much of last season has been negligible, although he did contribute eight fourth-quarter points to make the last loss against New Orleans interesting.
Wiggins is blessed to have an All-Star guard dropping him dimes, however. What, you forgot about All-Star Mo Williams? Mo Williams won't let anyone forget about Mo Williams. If you need Mo Williams (12.5 PPG, 6.4 APG, 40.4 FG%) to drop an NBA-season-high 52 points (check that… yeah, it still is) just to beat the present-day Pacers by nine, your season's not going terribly well. But for one more day, he's the reigning Western Conference Player of the Week because of it. Wiggins' presence (and Rubio's absence) has resulted in a passing rejuvenation for the always exuberant Williams (38.4 assist percentage, 10
th
in NBA).
Just based on floor experience, The New Teen Wolf (Wiggins) is literally a hardened veteran already, relative to the rest of his teammates. 2013 number-one-overall Anthony Bennett was an early-season surprise but regressed just as quickly. Sophomore wing Shabazz Muhammad (13.7 PPG and 48.8 FG%) is a candidate for Most Improved Player, but he's out recovering from an oblique strain.
A strong D-League prospect, guard Zach LaVine was pressed into the starting point guard spot until recently due to all the injuries. Possessing unbridled athleticism, LaVine's a thrill to watch if you're not actually trying to win basketball games right now. Bennett (knee) and LaVine (elbow) are both questionable for today's game. Reserve small forward Robbie Hummel still tries hard. Little Big Dog Glenn Robinson III, a 2014 second-rounder, is even less ready for primetime. Wayfaring second-year center Miroslav Raduljica is under his second 10-day contract.
One young gun who is working out for Minnesota is center Gorgui Dieng, the very definition of a skilled rim protector (1.7 BPG, 8
th
in NBA) and a board crasher (12.5 O-Reb%, 10
th
in NBA; 8.4 RPG, 19
th
in NBA). Saunders unveiled Dieng at power forward during Friday's game against New Orleans (14 points, 15 rebounds, 3 assists), bringing in Pek off the bench to allow the pair to match up with Anthony Davis and Omer Asik. Unibrow struggled with his shot (9 for 23 FGs) against Dieng but still finished the day with his requisite double-double. Flip remains intrigued by the duo's Twin Tower potential and may go to them early today to see how they will fare against borderline 2015 All-Stars Al Horford and Paul Millsap, as well as Pero Antić.
Saunders' experimentation may result in a squeezeplay for Young, the power forward who failed to grab a rebound in 31 minutes Friday's loss to the Pelicans. If Dieng works out well at the 4-spot, Saunders may put his GM hat on and shop the 76er refugee up until the trade deadline. Young (1.8 SPG, 10
th
in NBA) also had no steals in his past two games, but he's always a threat to force turnovers, something Atlanta (36-8) will want to avoid if they expect to put the Wolves away early.
All of the moving parts, injuries, and inexperience never bodes well for a team defense, and Minnesota is no exception. The Wolves are the only team whose opponents are hitting nearly half of their shots (49.4 opponent FG%, worst in NBA; 38.4 opponent 3FG%, 2
nd
worst in NBA). Accordingly, they give up a league-high 107.4 PPG, although a reduced pace has allowed them to hold their last four opponents below that average.
Dieng isn't simply the last line of defense around the rim, he's the only dot, as Minnesota's opponents make an NBA-high 18.9 field goals in the restricted area, at a league-high 66.8 FG%. For all his length, Pekovic (career 0.6 BPG and 5.4 defensive rebounds per-36) isn't likely to ameliorate the defensive problems in the Wolves' interior (league-high 47.4 opponent PPG in the paint).
The Wolves' cushy interior and lax perimeter D could make for a fun day for the Hawks' bench corps. Atlanta continues to try to feed Mike Scott (40.7 FG% on shots from 3-10 feet) in the post, but he must convert with better efficiency. Scott shot 2-for-9 on two-point field goals in his last two games, and the Hawks will want to see more of the emoji-tatted guy who went 7-for-9 on twos during the MLK Day victory against the Pistons.
Dennis Schröder's shot wasn't falling against OKC, but Dieng and Wiggins' likely Rising Stars Game teammate showed tremendous poise as a ballhandler against the Thunder's aggressive guards. He's averaged 4.8 assists and just 0.8 turnovers over 17.4 minutes in the past four games.
Thabo Sefolosha should be in a more relaxed mood after successfully defending Kevin Durant and Thunder guards in his brief stints, and he and Kent Bazemore will be ready to score off of T'wolf turnovers. There is no way Pekovic will divert from camping out in the paint, so perimeter shots will be like three-point free throws for Antić.
While the Hawks starters, many of whom are still making their case for an All-Star nod, won't take Minnesota likely, they will strive to build as sizable lead as possible to allot second-half minutes for Minnesota native Mike Muscala. The Pride of Roseville has only seen double-digit minutes against Philadelphia over the past couple months. Moose is a tried-and-true Minnesotan, though, so he won't mind the wait. No rush.
Let's Go Hawks!
~lw3