Posted by
lethalweapon3
in
lethalweapon3's Pre-Game Preview Blog
, 25 April 2015 -
· 16 views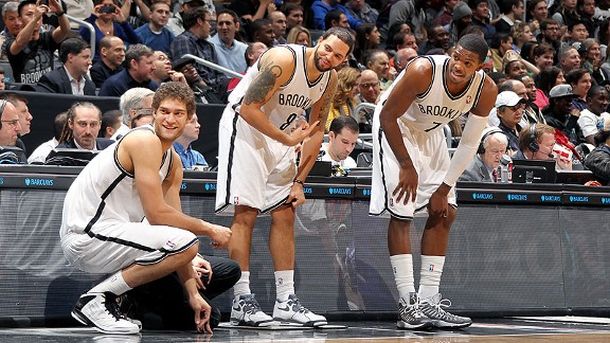 "So, which one of you three is Curly?"
Oh, you big teases!
Those hungry for style points while watching the Atlanta Hawks tame the Brooklyn Nets in this opening round series have come away disappointed so far. "Where are the mudhole footprints?" ask the bellyachers. They peer at the final deficits, and suffice to say, they are not entertained.
Never mind that the Nets, who have oodles more postseason experience than either 6-seed Milwaukee or 7-seed Boston, have led in this series for barely over five of the 80 minutes of basketball played. Total.
Never mind that the Bucks have held a lead in their series with Chicago for an

average

of 15.75 minutes, the Celtics 11.1 (14.9 through the first two road games) even while Cleveland cruised through Game 3 in Beantown. That an 8-seed is left hanging around at all is conduct unbecoming of a 1-seed! (They may not want to see what the Warriors have to do just to fend off those pesky Pelicans.)
Another distinguishing playoff feature you'll note as the scene shifts to Game 3 in Brooklyn (3 PM Eastern, SportSouth, TNT) is that the Cavs and Bulls… well, let's just say their fanbases travel well. LeBron or D-Rose makes a bucket and the arena explodes… the opposing team's arena. Jeff Teague goes bonkers at Barclays and… meh! The Hawks won't be propelled by a rabid, friendly crowd this afternoon to encourage them to pull through. The good news is the attendees aren't all that souled out with the team in white-and-black, either.
Brooklyn basketball is, at its conceptual core, a fashion device. People aren't so much fans of the Nets as they are proud to rep BROOKLYN, or whichever NYC borough's team is the default flavor-of-the-month. Whether it's Jay-Z, or Mikhail Prokhorov, or Deron Williams, BROOKLYN is something easy to flaunt on your chest for as long as it's in $tyle… and just as easy to abandon when it's not. Show out in black-and-white, practice that depressing BROO-KLYN drone, and you're in the in-crowd -- for as long as the Nets are on the floor looking good, too.
Once the Nets players psychologically check out, though, the fans will follow in short order. One of the Hawks' goals in Game 3 is to give attendees ample reasons to spend their afternoon checking their phones for Saturday nightlife action. "Where the party at? 'Cause it sure ain't here!"
When he's not balling out on the floor, Pero Antić could do his best Stefon impression and offer up some postgame tips. Pero gave Atlanta eight points late in the third-quarter of Game 2 and added a couple nice defensive stops to help the Hawks build up a winning cushion. For Antić, Kent Bazemore and Dennis Schröder, the late-third-quarter surge was a clear adjustment from the middle of the first half, as an early first-quarter double-digit lead eroded by the middle of the second.
Hawks coach Mike Budenholzer would love to phase in all of his top reserves, including Shelvin Mack and Mike Scott, so long as they're playing effectively together on both ends of the floor. Aside from Schröder (10-for-20 FGs in the series), the bench mob is shooting just 10-for-31 from the field and have struggled to keep Nets reserves Jarrett Jack, Alan Anderson and Mason Plumlee (23-for-33 FGs in series) from finding the hoop.
Scott (1-for-7 FGs in Game 2), in particular, must find a way to defend effectively or he'll find his minutes deferred to Mike Muscala, who has yet to appear in this series. Bazemore (1-for-5 FGs in Game 2) bounced back in the second half and was entrusted for the final clinching plays, where his closeout forced Williams off the 3-point line for a missed mid-range shot from the baseline, and his shielding D-Will from the hoop on the final Nets' drive had him in position for the rebound of Jack's blocked shot from the corner.
The top-seeded Hawks have not had to necessarily fire off all cylinders to come away with victories, while it seems the eight-seed Nets need to be literal perfectionists just to be in the conversation. Atlanta hasn't shot above 43 percent in any quarter since the opening stanza of Game 1, and the offense tends to stall when they're not creating transition baskets, or when the guards try to go-it-alone with halfcourt isolation pull-ups.
Atlanta has piled up 17 assisted buckets in Games 1 and 2, but just eight in the fourth quarters, and virtually every time they expanded their lead beyond ten points, it happened on the strength of an assist. Ball movement remains a crucial component of keeping the Nets under foot for the remainder of the series.
The Hawks also seem to be pulling the chair on Brooklyn, comfortable letting the players least capable of turning the tables to go off.
Joe Johnson has taken the most shots in the series but is a combined -21 in plus-minus while shooting 36.4 FG% from the field (21.4 3FG%), despite the apparent ease with which he occasionally backs DeMarre Carroll into the paint. Joe's better off passing the ball (9 assists, 1 TO) out of the double team to capable shooters (not you, D-Will), and to Brook Lopez and Thaddeus Young. Jarrett is living up to his surname, and is even plus-10 on plus-minus, but he's a good bet to give the ball away when he's unable to create his own shot (five assists and a series-high 9 TOs in 45 minutes).
Underlining the chair-pulling Budenhustle we've witnessed through two games, Brooklyn is shooting an NBA-high 52.3 2FG%, and only a hopelessly broken Portland and Milwaukee are shooting the ball worse than Atlanta's 40.8 FG% so far. But no one other than Memphis (Portland 84.5 PPG) is holding their opponents to fewer points per game than Atlanta, Brooklyn averaging just 91.5 PPG while leading for under 6.5 percent of the series.
Keeping the Nets' shooters cool from the perimeter (28.3 3FG%, second-worst in NBA) helps. Coach Bud is fine with Johnson and Jack killing their own clock with heavy-dribbling forays from the perimeter toward the paint. If the Itches (Bojan Bogdanovic and the rust-shedding Mirza Teletovic) cannot get it going from long-range soon, Hollins may roll the dice with longer stretches for Alan Anderson (2-for-3 3FGs).
Neutralizing Brooklyn's rebounding edge helps. Young and Lopez are getting their share of putbacks (8.0 O-Rebs per game). But to the credit of the Hawks' swingmen (Korver and Carroll averaging 12.0 D-Rebs per game), no other Brooklynite has collected more than one offensive board.
Winning the turnover battle helps, the Nets' trio of Jack, Young, and D-Will (21 of Brooklyn's 33 TOs) turning the ball over once fewer than Atlanta's entire team (22 team TOs). Hollins' best option is to get the ball to Lopez early and often, relying on simple dump-ins to the post in a two-man game if Atlanta continues taking away their 1-5 pick-and-roll.
It's not that Brooklyn is playing like a joke… they're simply not in on the joke yet. Atlanta dropped four of their final five road games, but their last win was right here on the Barclays Center floor, playing without Pero and fending off a desperate Nets fourth-quarter rally to escape with a 114-111 victory. Keeping the Nets guessing the punchline for 40 more minutes will have them in a 3-0 hole, and their fans snooping around for the next hot thing. "How soon do the Islanders get here?"
Let's Go Hawks!
~lw3