Posted by
lethalweapon3
in
lethalweapon3's Pre-Game Preview Blog
, 22 May 2015 -
· 29 views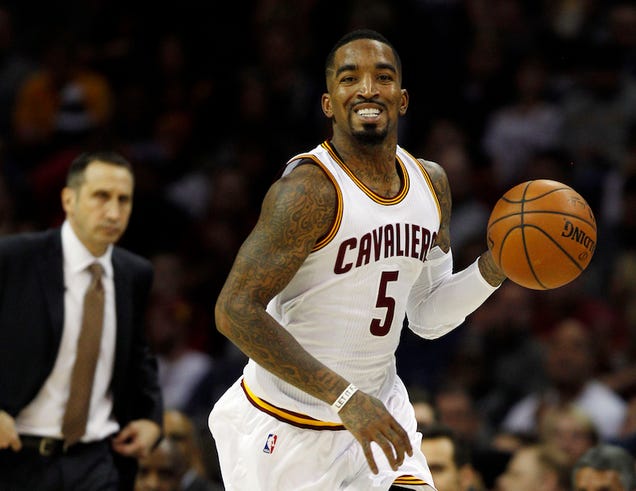 "You trying to get the pass?"
A Stay of Execution. That's not what's happening in the literal sense with these Atlanta Hawks, at least not yet. They're hosting the Cleveland Cavaliers tonight in the Eastern Conference Finals at the Highlight Factory (8:30 PM Eastern, TNT, 92.9 FM in ATL) for what hopefully is not the final time this season.
Things were looking dire late in Game 1, Atlanta down by double-digits in the final five minutes when their Playoff MVP, and LeBron Impeder, DeMarre Carroll went down with what looked to be, for him and his team, a catastrophic knee injury. While former editions of the Hawks would have crumbled like a CGI building near the San Andreas Fault, this group pulled together and played inspired ball in Carroll's absence, right up to the final minute of play. Now, Hawks fans need to see execution from their top-seeded team on both ends of the floor all night, execution that was non-existent for way too many stretches of Game 1.
Execution wasn't evident in Game 1 when Cleveland took advantage of the Hawks' lack of persistent motion on offense. The Cavs neutralized Atlanta's pass-starved offense by shielding Jeff Teague (10-for-18 2FGs) and Dennis Schröder's teammates and daring the static duo to try scoring on drives down the lane, or at least take ill-advised perimeter heaves (1-for-9 combined 3FGs) early in the shot clock. Execution was obviously flawed on defense, whenever Woodyball reared its head and the point guards found themselves switched onto James in isolation around the elbow.
Execution to get Kyle Korver (2-for-4 3FGs) simmering from long-range never materialized, leaving the door open for Cleveland's J.R. Smith to go circa 2009 Nuggets-era on Atlanta, burying the Hawks with eight go-for-yours threes on 12 attempts. While Smith's teammates shot just 2-for-14 on threes, Korver's associates (2-for-19 3FGs) were of little help, either.
Execution wasn't obvious around the rim, as Tristan Thompson and Timofey Mozgov had few problems getting offensive rebounds around the Hawks' frontline, and Atlanta failed to make them pay at the other end (9 fastbreak points). Korver had to lead the way for the team in defensive boards (7) while Carroll was occupied on James.
Execution was crucial at the charity stripe, but the Hawks missed six freebies and were unable to capitalize on the Cavaliers' seven misses. Execution was needed, but never transpired, when LeBron sat with two quick fouls and the Hawks up seven in the first quarter, the Hawks making just one field goal in the final three minutes while Cavs coach (and today's birthday boy) David Blatt preserved James. The Cavs thoroughly controlled the tempo as the Hawks took a postseason-low 77 shot attempts and gathered playoff-lows of 37 player rebounds and 19 assists.
Execution evaporated on the game-clinching play, when the Hawks needed another stop for a chance to get themselves back within a bucket of the lead. Paul Millsap was locked into James way too far out from the rim, and when James came thundering off the pick, rolling right down Peachtree and a little ways down Whitehall for the game-defining slam, the Hawks on the floor were left looking at one another: "I thought you had him!"
The good news is Carroll's knee injury turned out not to be as serious as it first looked. With a knee brace strapped on, DMC's status for Game 2 is similar to that of Cavs guard Kyrie Irving, whose balky knee issues have the Cavs turning to Matthew Dellavedova (0-for-6 FGs, 3 assists) and Iman Shumpert (1-for-7 FGs, 2 assists) when LeBron is unable to put matters in his own hands.
12 player turnovers by the Cavs (just six Atlanta steals) and 30 defensive rebounds by the Hawks is insufficient to get Atlanta's transition game up-and-running. Game 2 must feature significant pressure on Cleveland's ballhandlers, and more deflections of predictable passes to James and Smith. Communication and box-outs are vital for Al Horford, Pero Antić and the Hawks' frontcourt, as they can't get caught watching the flight of the ball with Thompson and Mozgov lurking about.
Whether or not Carroll gets green-lighted for Game 2, Millsap will have to make better decisions with his positioning while guarding James in the halfcourt, and must communicate better with Horford whenever his man is coming off screens. Mike Budenholzer effectively deployed Kent Bazemore late in the game and insists on giving LeBron "different looks," but those looks cannot include his point guards getting backed down toward the paint off James' frequent iso-dribble. Bazemore's length and athleticism gives him a better chance of being disruptive, and he's likely to get the start in place of DMC.
Korver must get better touches, and those can come by way of his backcourt mates' drives, Horford's and Antić's dribble-handoffs, and hockey assists. Even if Kyle has to get a few spot-ups and contested shots up, this is no time to leave his missiles in the silos.
Taking an 0-2 series deficit into title-starved Cleveland would feel like a literal Stay of Execution for Atlanta. It's time for the Hawks to show they can do a little executing of their own, too.
Let's Go Hawks!
~lw3