Posted by
lethalweapon3
in
lethalweapon3's Pre-Game Preview Blog
, 31 March 2015 -
· 37 views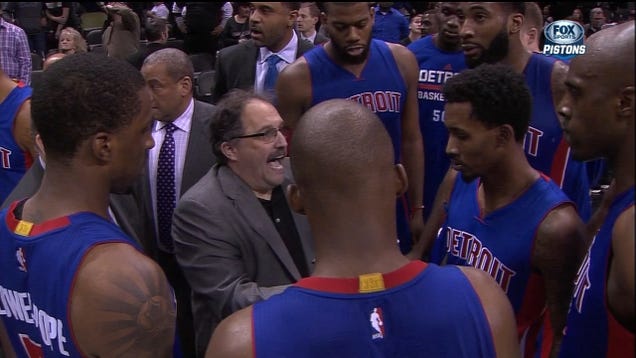 "We'll just trade for John $@%#*^ Wall!"
They're not dead yet!
Okay, fine, they're dead. Suffering two ten-plus-game losing streaks in a season is usually enough to do any team in, even in the Eastern Conference. Despite a 4-1 run of late, the Detroit Pistons (28-45) sit 4.5 games out of the final spot in the playoff race, with three other teams on the waiting list ahead of them and just nine games to go.
So stick at least a spork in them, if you wish. Just don't try to convince them yet.
The Pistons host the Atlanta Hawks in their Auburn Hills palace tonight (7:30 PM Eastern, SportSouth, Fox Sports Detroit). If Stan Van Gundy's club comes out of the next three games still in playoff contention, they get a four-game homestand followed by games that won't mean much to the Cavaliers and Knicks. The last three games played at the Palace involved victories over the Grizzlies, Bulls, and Raptors. And those games were won without Detroit's second-leading scorer and rebounder.
Charley Rosen's idol Greg Monroe has missed the past seven games with a strained knee, and will likely miss tonight's game as well. But "The Other Moose" still intends to play out the string this season once he recuperates, despite the risks of getting re-injured before he can become a top free agent prize this July. While SVG has flowered praise upon Monroe and openly expressed a preference to retain him for next season, he has one eye on Paul Millsap, a player in his All-Star prime whose lunchpail qualities make him the embodiment of what the Pistons like to think they once were.
In Monroe's place, there's Anthony Tolliver. The Man From Kickapoo still dwells around the perimeter (career-high 4.1 3FG attempts/game in Detroit), shooting 34.3% on threes since arriving in mid-season from Phoenix. But the 6-foot-8 forward is also finishing around the rim like never before (61.1 2FG%), and the former Hawk's hustle on defense, however misguided, has enamored Van Gundy into making him a Pistons staple. Joel Anthony (1.0 BPG in 7.8 minutes/game), don't hang it up just yet. You're part of Stan's core, too.
"Those guys are model guys," crowed Van Gundy recently about the duo, "which not only helps our team but those are the kind of guys – and Caron (Butler) we've talked about all year – that we want our young guys around and observing and understanding this is what professionalism is." Like Tolliver and Anthony, Butler is a "set the tone" guy for Van Gundy. Tayshaun Prince and Cartier Martin, too. They provide examples for the yung'uns about what to do… and at times, what not to do… on the floor.
"Caron Butler, starting NBA player" is still a thing. He's been shooting the ball well (52.3 FG% in last nine games) in short stints, and although the recently starting small forward gets a quick hook if he's not producing early, he's good for going off on some unsuspecting team about once a month. It's not clear what the Bulls ever did to him, but the Wisconsin native dropped 20 points on Chicago in each of the past two months (both Piston wins).
Reggie Jackson longed to be handed the keys to an offense full-time. Now he's got them, at least for another few weeks. The restricted free agent-to-be certainly did not arrive in the Motor City looking to be anyone's short-term rental. After some early struggles, he's putting up the numbers (17.5 PPG, 8.5 APG, 5.2 RPG in Motown) to help him make the case for a contract match this summer. Keeping him around for 2016 would involve SVG, somehow, jettisoning the injured Brandon Jennings ($8.3 million expiring next season), lest he risks Detroit becoming like Phoenix without the cactii.
Andre Drummond continues producing the empty calories associated with monstrous rebounding nights. On Sunday, he shot 14-for-17 and nabbed 14 rebounds to go along with his career-high 32 points, but largely for naught, as the Pistons lost on the road to shorthanded Miami. He's exceeded 20 rebounds four times this month, and Detroit's 1-3 in those games. The Pistons are 0-3 this season when he has collected more than ten offensive rebounds in a game.
The absence of Monroe makes it imperative that someone else in the frontcourt steps up such that Drummond is not looking stranded beneath the rim. Monroe and Drummond are 1
st
and 2
nd
in points in the paint this month, so the offensive void has been hard to replace. Also, despite Dre's exploits the Pistons' 73.8 defensive rebounding percentage this month (7
th
-lowest in NBA) is just marginally better than Atlanta's.
As formidable as he is, Drummond can't rebound the shots that go in. So he needs somebody in the frontcourt to help him stop Udonis Haslem from enjoying a double-double in the first half. He needs someone in his backcourt to challenge shots so a freshly knee-fluid-drained Dwyane Wade doesn't go for 40. He needs somebody off the bench to restrain rookie James Ennis from a career-high 16 points. All of those things transpired in Sunday's 109-102 loss, a game where Miami lost Luol Deng and Mike Beasley to injuries in the first half.
Perimeter defense needs to be stellar for the Pistons against DeMarre Carroll and Kyle Korver. Korver showed last night that going cold for 32 minutes means little when he can roast the net like Martha Stewart in around sixty seconds. Despite a February swoon, Korver's 67.6 true shooting percentage this month ranks 4
th
in the league. Carroll (63.3 March TS%, 16
th
in NBA) re-asserted himself defensively, and got virtually any shot he wanted amidst the Milwaukee trees on the way to a team-high 23 points. Both players kept Atlanta's offense flowing all night by contributing five assists and committing one turnover each.
For Atlanta (56-18), this game should have a similar feel as the Charlotte game from Saturday, especially if Hawks coach Mike Budenholzer rests some starters again. Unlike Milwaukee (league-high TO% this month), Detroit has the league's lowest TO% this month, just ahead of the Hornets, and have given up the fewest fastbreak points (9.1 per game, only NBA team allowing less than 10 in March).
Coupled with Detroit's plodding pace (5
th
lowest since All-Star Break), opponents have managed to steal the ball away just 5.8 times (fewest in NBA) per contest in March. The Piston offense has a different feel without Jennings, Josh Smith, D.J. Augustin, and/or Monroe around to bobble the ball away, so transition buckets for the Hawks will be hard to come by. In the January 9 meeting at The Palace, when Tolliver and Caldwell-Pope sparked a furious second-half rally to fall short by three points, the streaking Hawks managed just three steals and forced a season-low seven turnovers from the opposition.
Still, Drummond's offensive rebounding efforts become a liability when teammates fail to slow down opponents at the other end off of missed shots, especially Georgian guards Kentavious Caldwell-Pope and Jodie Meeks (combined 8-for-26 shooting, 5-for-16 on threes @ ATL on Jan. 19).
Especially when Al Horford and Pero Antić get box-out help, Millsap (10.2 March in-the-paint PPG, 11
th
in NBA), Carroll, Kent Bazemore and Thabo Sefolosha can help Atlanta open things up downcourt by shedding their man and either getting open or setting up open shooters. Their collective offense should help compensate for the loss of Mike Scott, who saved the Hawks' bacon during the nationally-televised MLK-Day Game with 20 points off the bench.
Horford's mid-range jumpshot (4-for-9 2FGs) reappeared early in the Hawks' win over Milwaukee on Monday, and he'll be an ideal halfcourt go-to guy with Drummond camped in the interior. Al's scoring has been at its highest this season on zero-days rest (17.1 PPG), as well as against Central Division opponents (17.7 PPG). In their last meeting with the Pistons, Horford dissected Detroit's D with seven assists and just a single turnover. The one-time Michigander also put up 19-and-16 in the Hawks' last visit to the Palace, but he may want to atone for a bunch of missed fourth-quarter shots and free throws that could have iced that game earlier.
Jackson will provide little defensive resistance to Atlanta's point guard corps, down one man as Dennis Schröder is back home checking out a toe he dislocated last night. Jeff Teague (career-high 61.8 restricted-area FG%; 0-for-6 2FGs vs. MIL on Monday) must continue to attack the rim, especially on pick-and-rolls, but has to demonstrate better body control so he doesn't soak up offensive foul calls like he did repeatedly last night. Teague and Bazemore can force Drummond (3.5 March personal fouls per game, 5
th
in NBA) into foul trouble without diving directly into him.
Shelvin Mack (career-low 38.4 FG%; 21.4 FG% in last 5 games, but 4.6 assist-turnover ratio) could use this game to work on shot selection and form. Van Gundy may turn to rookie Spencer Dinwiddie to try disrupting the Hawks' passing attack from the point position.
Prevailing tonight in Detroit would help these Hawks not only clinch at least a tie in the win column with one of its former teams, but also surpass another of its forerunners in another category. A 57
th
win would match Dominique's storied 1986-87 team for regular season wins. The strike-shortened 1998-99 Atlanta Hawks went 15-10 (60.0 win%) on the road, and a 25
th
road win would make this year's group the franchise's most successful ever away from their own nest.
Let's Go Hawks!
~lw3