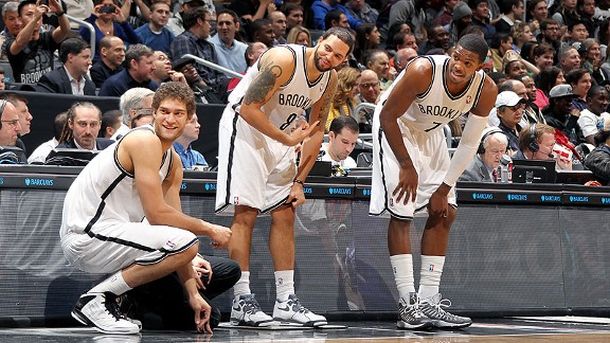 "So, which one of you three is Curly?"
Oh, you big teases!
Those hungry for style points while watching the Atlanta Hawks tame the Brooklyn Nets in this opening round series have come away disappointed so far. "Where are the mudhole footprints?" ask the bellyachers. They peer at the final deficits, and suffice to say, they are not entertained.
Never mind that the Nets, who have o...
"What did the four fingers say to the face?"
Time to dish out another dose of Southern Hospitality! The Atlanta Hawks are Back for the First Time, hoping to build a 2-0 lead in their playoff series with the Brooklyn Nets (7:00 PM Eastern, SportSouth, NBATV outside ATL) tonight at the Highlight Factory. Fans will have plenty reasons to Stand Up; hopefully, most of that action will be induced by the Hawks' play on the floor.
Chris Bridges knows...
"DAGGER!"
Oh. It's You.
Pardon us Atlanta Hawks fans for not trumpeting the arrival of your Brooklyn Nets, Joe Johnson, just in time for Game 1 in this opening round of the NBA Playoffs, here at the Highlight Factory (5:30 PM Eastern: GET DOWNTOWN EARLY!, SportSouth, TNT, YES Network). We trust you can find your own way back to the floor.
Most Hawks fans were hoping Joe and his underwhelming supporting cast would be watching the playoffs from the c...