"Hey, Danny! HOW DOES IT FEEL? …"
Atlanta Hawks fans, say hello to ATL's Own and the reigning Eastern Conference Player of the Week… Sit down, Smoove, not you. I'm talking about Lou Williams!
This holiday season, Lou's giving thanks to Danny Ferry for sending him to a team that seems thrilled to have him around. After being traded in June, along with 2013 first-rounder Bebe Nogueira, roughly for the equivalent of chipped beef on toast, the Snellville Sniper has found a new pep in his step with tonight's opponent, the first-place Toronto Raptors (7:30 PM Eastern, SportSouth, Sportsnet in Canada). Lou (36 points, 15-for-15 FTs) left LeBron James looking like Anthony Tolliver on defense, on his way to a 23.6 PPG, 10-for-...
"Don't hate! This is far easier than selling my sneaker line!"
Our Atlanta Hawks sit 4.5 games out of first place in the Eastern Conference, and their next two opponents, the Toronto Raptors and tonight's opponent, the Washington Wizards (7:00 PM Eastern, SportSouth, CSN Washington) rule the roost. Owing to the collective mediocrity of the conference, Atlanta's also just 4 games out of the next-to-last spot in the East. Coming off their final three-day rest period before the All-Star Break, in which direction will the Hawks move this week?
Under former Hawks forward and current Wizards coach Randy Wittman, Washington's approach is essentially to dominate the scoring inside the perimeter. A league-high 66.3% of their points are two-pointers, and an...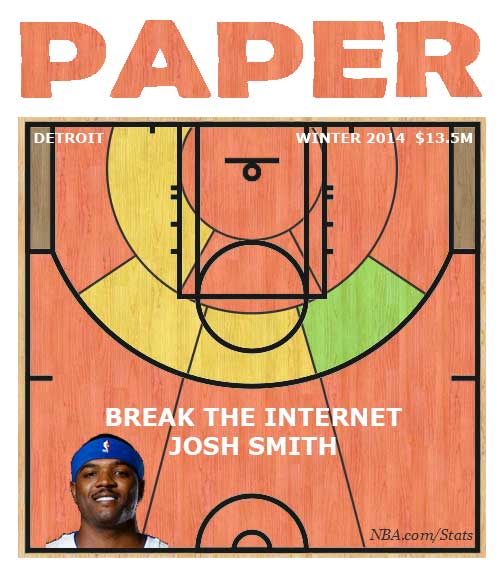 WARNING: This shot chart might leave your eyes glazed over. Kinda like Kim, actually.
Are the Atlanta Hawks the "fixers" of the NBA?
Despite a three-game winning streak, the high-hoped Cleveland Cavaliers had a disappointing 4-3 record and were coming off a seat-of-their-pants victory in Boston the night before. Their championship aspirations were, and are, decidedly in question. How nice of the Hawks to serve as the backdrop for Cleveland's franchise-record 19 three-pointers on Saturday? The Cavs went on to lose the next two games on their home floor this week, including one to the squabbling Nuggets. Thank goodness for that Atlanta game, eh, Cleveland?
It takes a lot to get Charles Barkley to consider skipping dessert, much less fa...