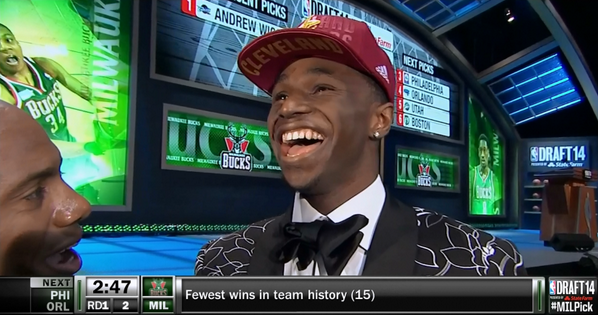 "Zach's going to Minnesota? HA! Sucks for you!"
Harlan. Garnett. McHale. Ollie. Love. Is there ever a Kevin that sticks around up there?
The Winter of Our Discontent is well into its 11
th
year up in The North Star State. The silver lining for the long-suffering fans of today's guests at the Highlight Factory, the Minnesota Timberwolves (6:00 PM Eastern, SportSouth, Fox Sports North, 92.9-FM "The Game"), is one Kevin, Kevin Martin, is still there! For the moment, anyway, as the trade deadline is less than a month away. The sharpshooter might even play today after having misse...
[June 2015] "So, Russell, now that it's over, what did you think of the Hawks' execution in this series?"
"You can get with THIS. Or you can get with THAT. I think you'll get with THIS… for this is where it's at!"
Mike Budenholzer's Atlanta Hawks are flying high, making their push toward a successful homestand and a high-profile All-Star break. So it'd be way too premature for him to get all Black Sheepy with the free agents of the summer of 2015, never mind the summer of 2016, when Kevin Durant of the Oklahoma City Thunder, tonight's visitors to the Highlight Factory (7:30 PM SportSouth, FoxSports Oklahoma), will be looking to break the bank.
But don't tell the fine people o...
"This city needs me!"
Is Mike Budenholzer pulling off a Long Con on the whole NBA?
After defeating the Detroit Pistons on MLK Day, Coach Bud moved to within one victory, ideally tonight at home against the Indiana Pacers (7:30 PM Eastern, SportSouth, Fox Sports Indiana), of securing a midseason gig that no "experts," no pundits, no bloggers, no game thread preview writers, anywhere, expected him to have. And yet, fools like yours truly run fresh from Philips Arena following Monday'...